Hospitality and food distribution comes with strict protocols when dealing with the temperature of foodstuffs. The reason being is that poor temperature control is one of the leading causes of food poisoning outbreaks. Consumers trust the supply chain is complying with regulations, and the products they receive have been kept as fresh as possible. However, how much confidence do you have in your monitoring? As technology grows, the need for clipboards and hourly instructions to staff is no longer required. Is it time for an upgrade for your business?
The Importance of Temperature Control Within Factories and Warehouses
No matter what food you produce or store, the correct temperature within the storage facility is essential. Ensuring this temperature is consistent and regularly maintained is paramount to providing fresh and safe produce. Whilst most dry food warehouses require an average room temperature of between 10°C – 15°C, a fresh food facility by law requires less than 8°C. As a good practice measure advised by Food Standards Agency, this should aim more towards 5°C to allow for errors. However, if you are dealing with frozen material, the minimum lawful temperature of the facility should be -18°C or lower.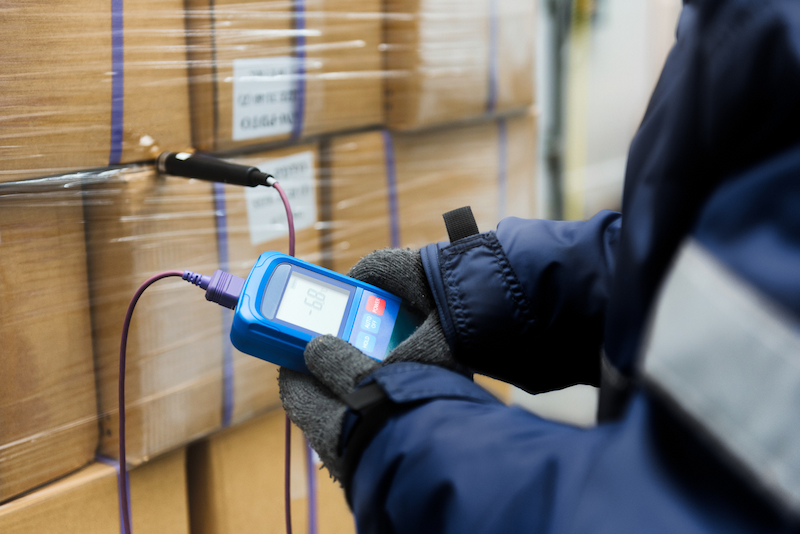 Meats especially need adequate care and attention. When dealing with them in a warehouse or factory setting, essential PPE also helps prevent the spread of contamination within fresh produce and the products warming as they are being processed. Due to the nature of the product, it can grow bacteria very quickly and cause a risk to consumers.
Using a food temperature monitoring system from A-D-M can give confidence that whether it is fresh or frozen, your storage and spaces are working at the temperature levels correctly and flag up any issues that may arise with equipment. An undetected issue will cause more disruption than equipment flagged up reasonably quickly. Having a system like this assists the efficiency of maintenance and equipment and saves you both time and money.
Temperature Monitoring Whilst Transporting Goods
Most perishables and dry food will require transportation, either in bulk for delivery or to individual retail or domestic premises. For dry food, an average transport vehicle needs minor requirements or adaptation. However, perishables such as fresh or frozen materials have temperature conditions that must be adhered to. When being transported, fresh food must be kept at 2-8°C, and frozen food must be kept at -18°C with a tolerance of 3°C for brief spells of the transportation process.
A distributor vehicle from suppliers and cold stores, by law, requires temperature monitoring systems to keep a log of the temperatures onboard, including the ability to regularly and frequently log the outcomes.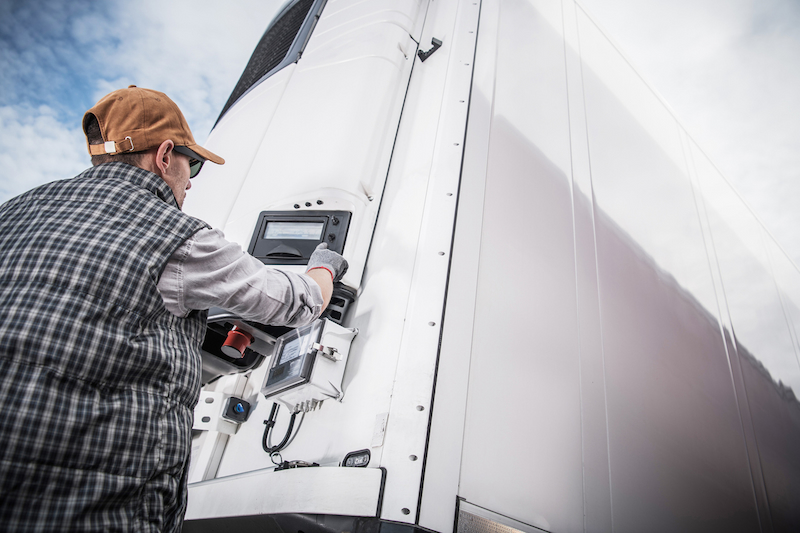 Running a large distribution plant requires the most up-to-date technology to examine your fleet from a distance and be confident in the delivery of your goods. We can provide you with a system that will allow for wireless monitoring solutions, enabling remote access to the administration. Excellent for those businesses with national deliveries that require compliance to the required temperatures.
Hospitality Requirements for Food Temperatures
Similar to transport and storing, the Food Standard Agency recommends food to be kept below 8°C for fresh produce and at -18°C for frozen. This is the optimum temperature for storing foods to ensure freshness and longevity.
Once the food is cooked or in the process of cooking, you need to also ensure that the provisions are hot enough to kill any bacteria present within the food. For cooking purposes, foods must reach a temperature of 75°C and above. Once you have moved the dish onto serving, such as a buffet setting, the food needs to be displayed at 63°C.
Many hospitality kitchens will have meals already pre-made up to ensure efficiency in their establishment. Realistically consumers will not like an hour wait for their paid meals. Re-heating has become a popular technique to help reduce cooking times down. For re-heating meals, you must ensure the product reaches 70°C to prevent bacteria growth and kill anything that may have begun growing.
With an A-D-M GeneSys Hospitality system in place, you can log all the progress with ease. We can help ensure that the temperature from transport to plate reaches compliance every time.
Requirements for Refrigeration Within Retail
From the storage in the warehouse to the facilities on the shop floor, every appliance must meet the proper compliance each time. Keeping to the standard regulations set by the Food Standards Agency can be difficult every minute of the day. Busy retail and leisure facilities may not always have spare time to monitor the refrigeration facilities manually. With an automated temperature monitoring system, you have no reason to miss a measurement, gaining top marks with the food hygiene agency, and one less thing for you and your business to worry about. If you need to upgrade your equipment or move from manual management, send an enquiry today for a response from one of our experts to talk you through the process.