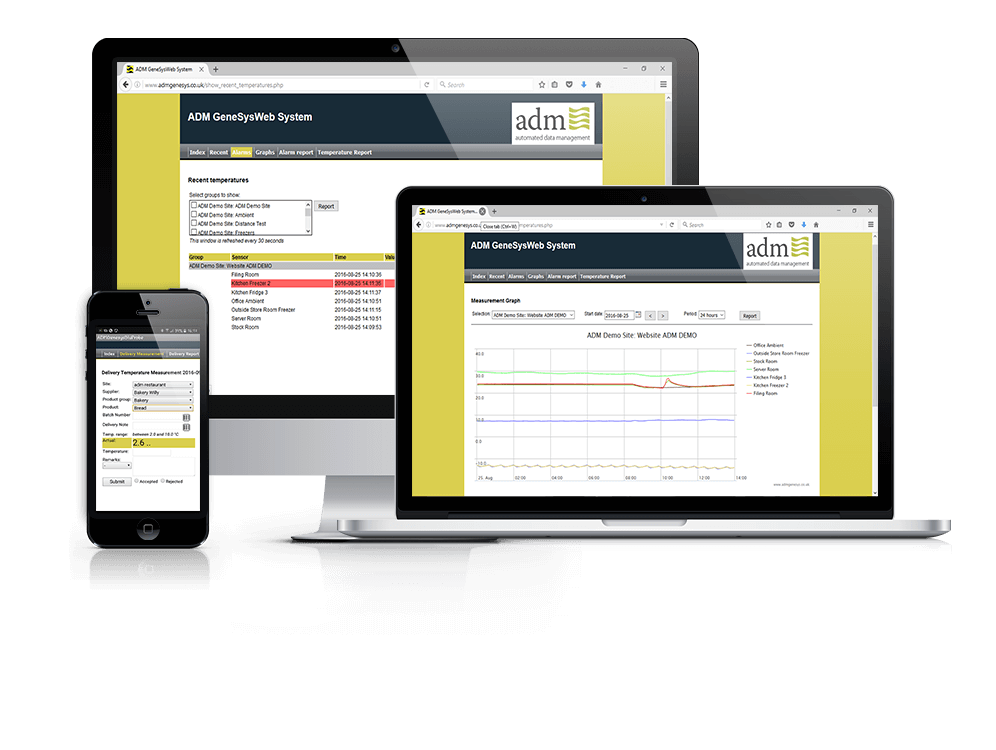 ADM is a trusted supplier of Automated Wireless Monitoring Systems, including
Temperature
Humidity
CO2
Flood Detection
Sector Applications Include
Hospitality – Refrigeration, Deliveries, Sampling, HACCP
Facilities Management – Legionella, Space Management, Data Centres, Water Tanks
Museums – Artefact Preservation
Scientific Applications Include
Laboratory – MHRA, HTA, CFR21 Part 11
Pharmaceutical – Validation and Mapping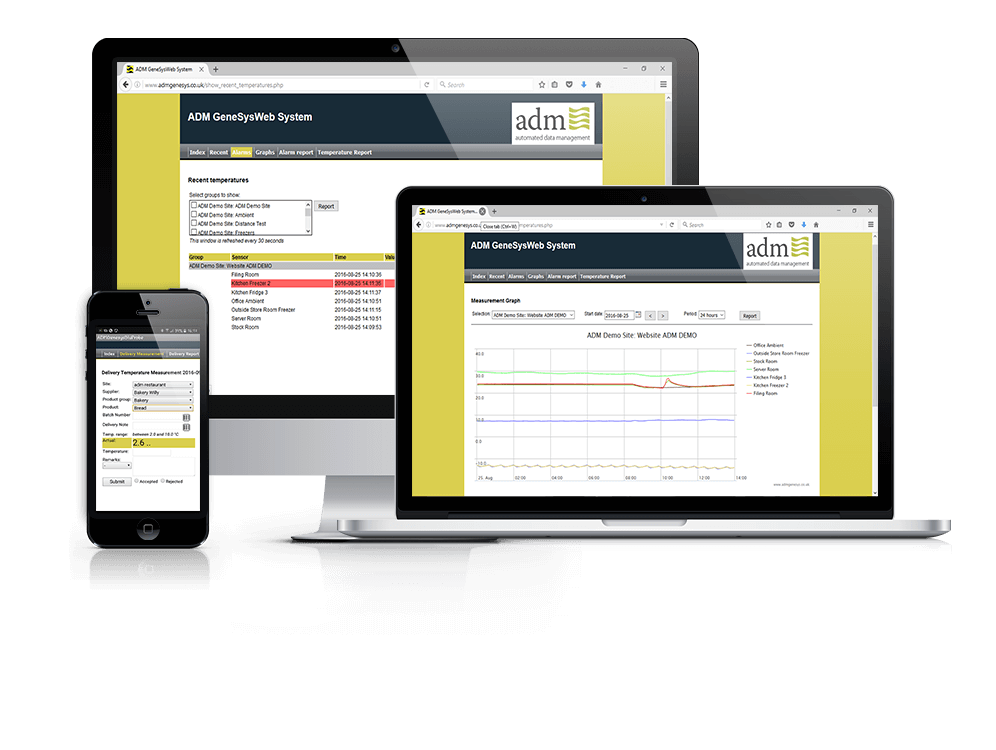 ADM GeneSysWeb is the parent system for all the monitored applications. GeneSysWeb is a powerful yet simple system for those that wish to focus on what the system does for them, and not how the system does it!
GenesysWeb is exclusive to ADM Ltd.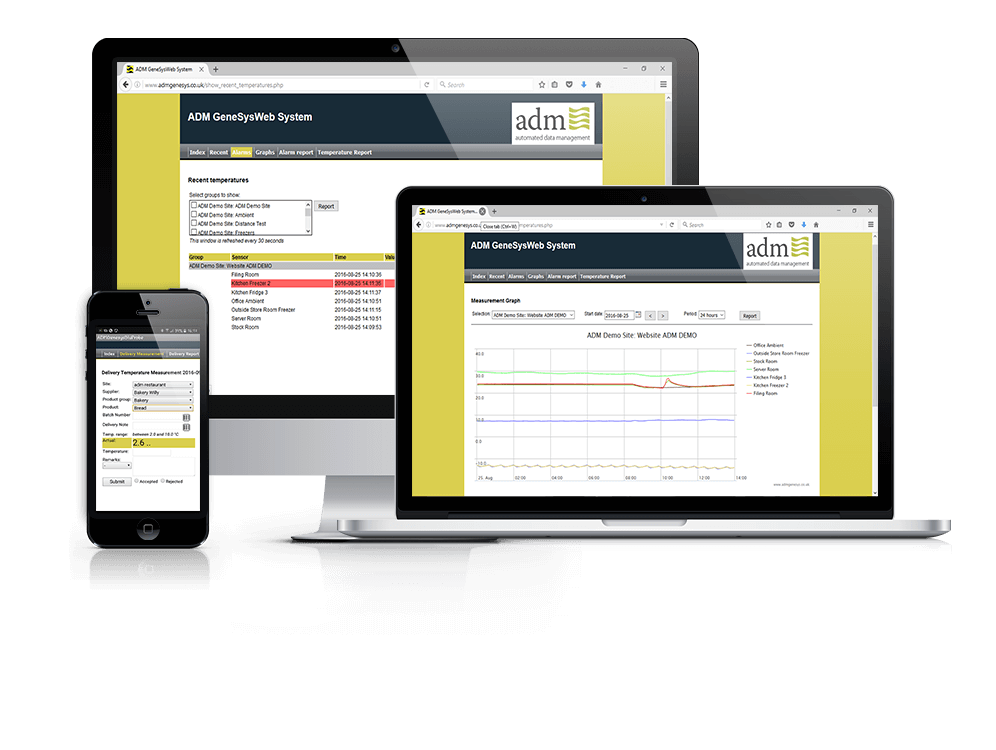 From Small Restaurants to Corporate Catering, Care Homes to Hospitals, Facilities Management to Flood Detection our system is versatile and extendable to cover your needs.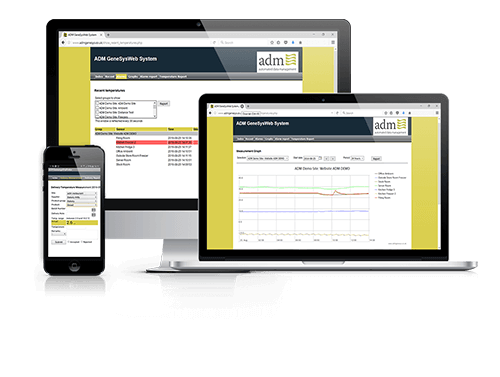 ADM is a trusted supplier of Automated Wireless Monitoring Systems, including
Temperature
Humidity
CO2
Flood Detection
Sector Applications Include
Hospitality – Refrigeration, Deliveries, Sampling, HACCP
Facilities Management – Legionella, Space Management, Data Centres, Water Tanks
Museums – Artefact Preservation
Scientific Applications Include
Laboratory – MHRA, HTA, CFR21 Part 11
Pharmaceutical – Validation and Mapping
Scientific & Pharmaceutical
Our wireless remote systems can be used for a variety of applications. We offer bespoke programs for monitoring a vast selection of contingencies. Our GeneSysWeb Wireless Monitoring System can be installed within your business and accessed through any device with an internet connection.
We take pride in providing real-time data from any remote location with our data monitoring systems. At Automated Data Management, we can provide a wireless monitoring system to ensure your business runs efficiently and effectively with accurate and up-to-date data. We cater to the scientific, pharmaceutical and hospitality sectors whilst also applying our remote occupancy monitoring systems within the facilities management industry to monitor the likes of hot desks, bed occupancy, and meeting rooms. We can also provide humidity monitoring systems, so you can ensure the correct humidity levels within your workplace.
You can rely on our wireless food temperature monitoring to read the temperature of your cooked dishes to the highest accuracy in line with HACCP compliance. We also offer state of the art flood monitoring systems to give you the confidence that you have accurate data when preparing or taking preventative measures against flooding in your property. However you run your business, you can depend on Automatic Data Management Limited to assist you with improving the seamless capability of measuring data accurately to increase efficiency within your business. Find out how our individual GeneSysWeb Wireless Monitoring Systems can work for you.
The GeneSysWeb Wireless Monitoring System
ADM wireless monitoring systems are modular and come under the collective title of GeneSysWeb. We provide solutions for Hospitality, Pharmaceutical and Facilities Management Sectors. The individual items that go to make up each bespoke solution for these sectors comprise of the following:
GeneSysTM - Wireless Temperature Monitoring
Our wireless temperature monitoring can provide you with temperature data for various applications. Whether you need to keep your commercial refrigeration levels in compliance with HACCP or the correct temperature in line with MHRA compliances within the pharmaceutical or scientific sector, our systems allow you to check these from any location with real-time information.
GeneSysBP - BluProbe - Wireless Temperature Probe
The ADM BluProbe uses the latest technology and Bluetooth to provide the most accurate reading of food temperatures wirelessly. Eliminating the need for manual recording reduces the time spent on administrative tasks. It lets you concentrate on providing excellent dishes with the confidence that your salad bars and food deliveries have been kept at a consistent temperature for quality and HACCP compliance.
GeneSysFM - Wireless Flood Monitoring
Having the capability to track water levels accurately ensures that you can take immediate action prior to flooding. Our wireless flood monitoring can provide you with precise data to levels customised for your needs, giving you the knowledge you need to prepare for potential flooding.
GeneSysGM - Wireless CO2 Gas Monitoring
A high influx of CO2 levels can induce headaches, discomfort, and reduced concentration. Our bespoke wireless monitoring systems can help you keep track of the levels in your workplace, resulting in you knowing when your staff require additional ventilation. We guarantee this will help productivity within your business and create more comfortable working environments.
GeneSysOM - Wireless Occupancy Monitoring
Hot desking, meeting rooms and bed occupancy can be challenging to keep up with manually. Our occupancy monitoring systems can provide you with the up-to-date knowledge you need to provide spare facilities within your business and can offer an excellent improvement to the efficiency of your space and reduce energy usage.
GeneSysHM - Wireless Humidity Monitoring
Humidity can be an important factor within a selection of niche industries, from pharmaceutical to heritage sites; these are essential to ensuring the protection of artefacts and medicines. Installing our wireless humidity monitoring systems allows you to take the necessary action before it is too late and can prevent bacteria and corrosion in areas that require protection.
GeneSysVM - Temperature Mapping and Validation - Equipment and Services
Validation mapping is a process which ensures that a piece of equipment is working to the standard required by standard protocols. Automatic Data Management Limited can offer an end-to-end service to guarantee that your equipment is working to the highest quality with a complete report.